Welcome to Amazing Auto Imports New Online Home
Amazing Auto Imports is commited to offering an exceptional quality and service to our customers.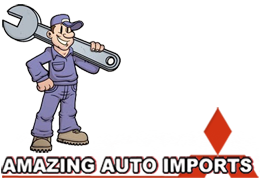 We specialize in JDM products, concentrating on Mitsubishi Delica and Pajero. Wether you need parts, service or you've made up your mind about that shiny Delica you've always wanted, we can help you, guide you and support you all the way.

After purchasing a vehicle from us, you can rely on a solid supply of parts and service as required. Our Mitsubishi certified, Delica and Pajero experienced shop is always there to help.

Our services now include "Full Service" packages on all vehicles; extending you an option to purchase our vehicle stock or serviced, we offer you 2 price options.

We are accepting Interac, Visa, Mastercard and AmericanExpress.

203-5755 No. 3 Rd, Richmond, BC V6X 2C9
office: (604) 247-2111 | mobile: (604) 720-6144
or use the form below to send us an email